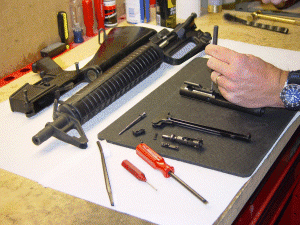 With the ever expanding predominance of AR-15 systems (including M16/M4/AR15) within the civilian firearms world, it's safe to say many enthusiasts have them. Then add in the constant expansion of types of manufacturers for this family of firearms and you see the need for more knowledge and specialized skills & armorers is on the rise.
This course is valuable in making sure this weapons platform is safely maintained, serviced, and does not void warranties while remaining operational at all times. If there comes a need for you to put this weapon into "action" there is a specific need and things have already gotten ugly – lives may be counting on it to work to its full capacity in those circumstances. There is a significant need for individuals to have the knowledgeable to properly maintain and service their carbines so they are safe and serviceable when and IF the time comes.
Students will acquire the knowledge of the weapons system, its technical requirements, and the confidence to maintain and service it for proper duty.
Some of the topic highlights to be covered will include (but are not limited to):
History of the Weapon – Safe Action System Design – Cycles of Function – Nomenclature – Field Stripping & Reassembly – Detailed Disassembly & Reassembly of the Upper Receiver – Detailed Disassembly & Reassembly of the Lower Receiver – Common Failures & Parts – Complete Armoring Disassembly & Reassembly – Cleaning & Maintenance – Sights, Tools & Distance Considerations – Ballistic Issues – Accessories & Upgrades – Tripper Jobs – Diagnostics/Troubleshooting & Repair
Time & Date; 0900-1300 on Sunday, 28 June 2015
This course will be taught in a classroom environment located at; 400 Middle Street Unit J, Bristol, CT 06010
Cost for this course will be $95 per student, Contact us for deposit/payment options.  Please note, a $25 deposit is highly recommended in order to reserve your seat.
Required items;
– AR15, M4, or equivalent AR-style platform (this is a caliber non-specific course… AR10's, 300AAC, 6.8SPCII are welcome!) – Cleaning kit Misc. items; – Notebook, pen/pencil
* NOTE: NO LIVE AMMUNITION FOR YOUR AR PLATFORM IS PERMITTED ON THE PREMESIS DURING THIS COURSE. LAWFUL CARRY OF SIDEARMS IS, OF COURSE, ACCEPTABLE.